On December 7, 2022 was my pleasure to join the Honourable Anita Neville, Manitoba's Lieutenant Governor and Premier Stefanson in presenting Queen Elizabeth II Platinum Jubilee Medals to mark the 70th anniversary of Her Late Majesty's accession to the Throne as Queen of Canada.
Elmwood recipients were Valerie Denesiuk, Joseph Gatien, Conn Gislason, David Harper, John King, Catherine McFarlane, Janice Stuyck, Lillian Thomas, Glenn Walker, and Sharon Walker. Congratulations!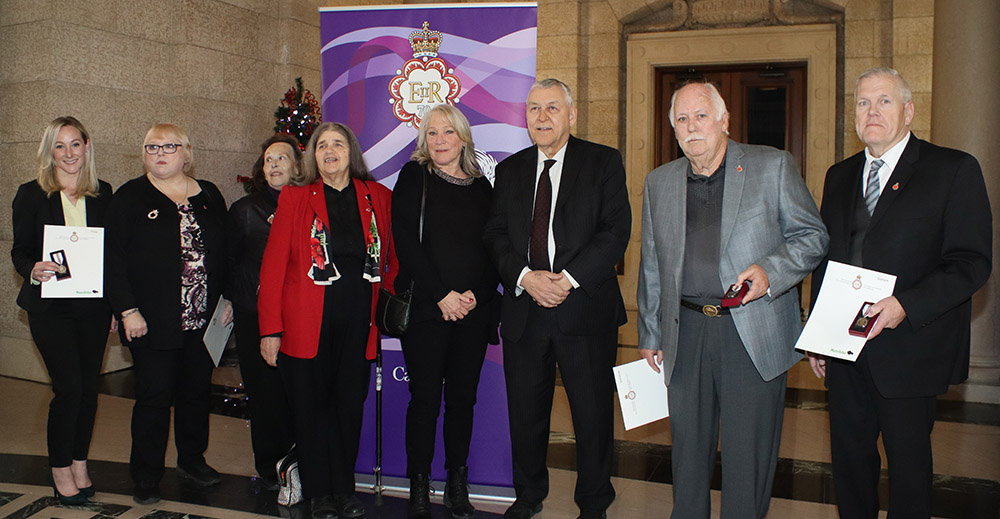 Pictured left to right: Ashley Verot (John King), Janice Stuyck, Valerie Denesiuk, Lillian Thomas, Linda King (John King), Jim, Conn Gislason, Joseph Gatien.
Great to see everyone again at the Elmwood-EK Active Living Centre's Christmas Luncheon December 4th. Turkey Dinner and all the trimmings!
When Jim showed Santa his petition on home security rebates, Santa eagerly endorsed and signed the petition. 'I'm pro-peace of mind', said Santa.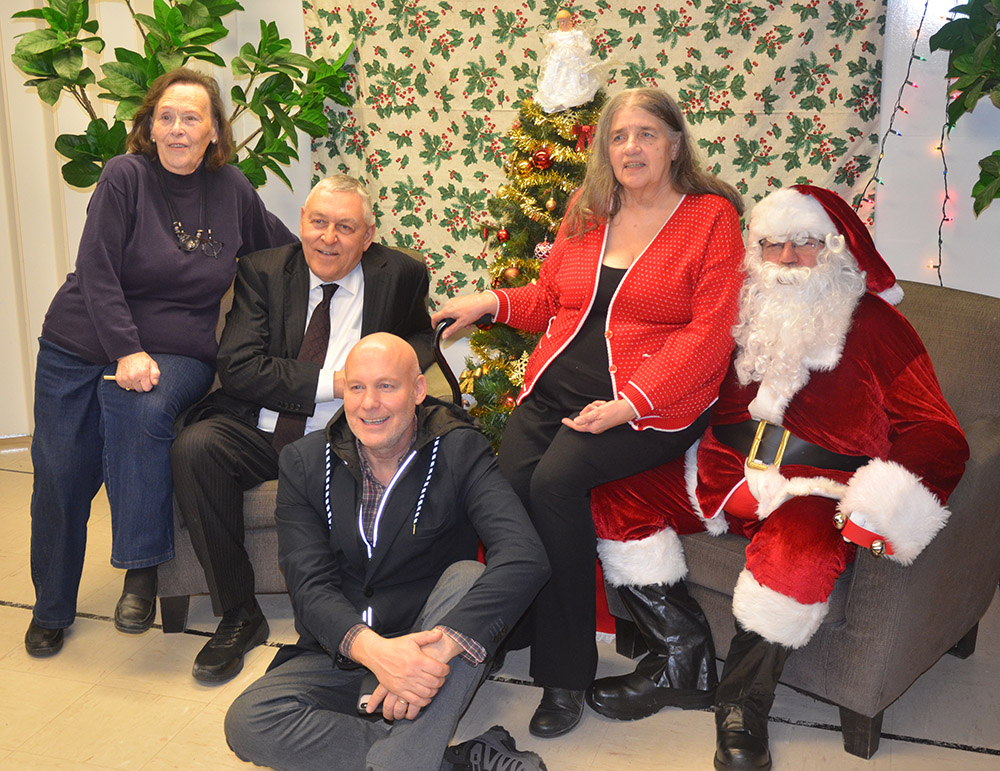 Here we are with Santa. LtoR: Valerie Denesiuk, Jim, Councillor Jason Schreyer, former Councillor Lillian Thomas and, of course, Santa.
November 11, 2022 Remembrance Day Ceremonies, Prince Edward Legion No. 81.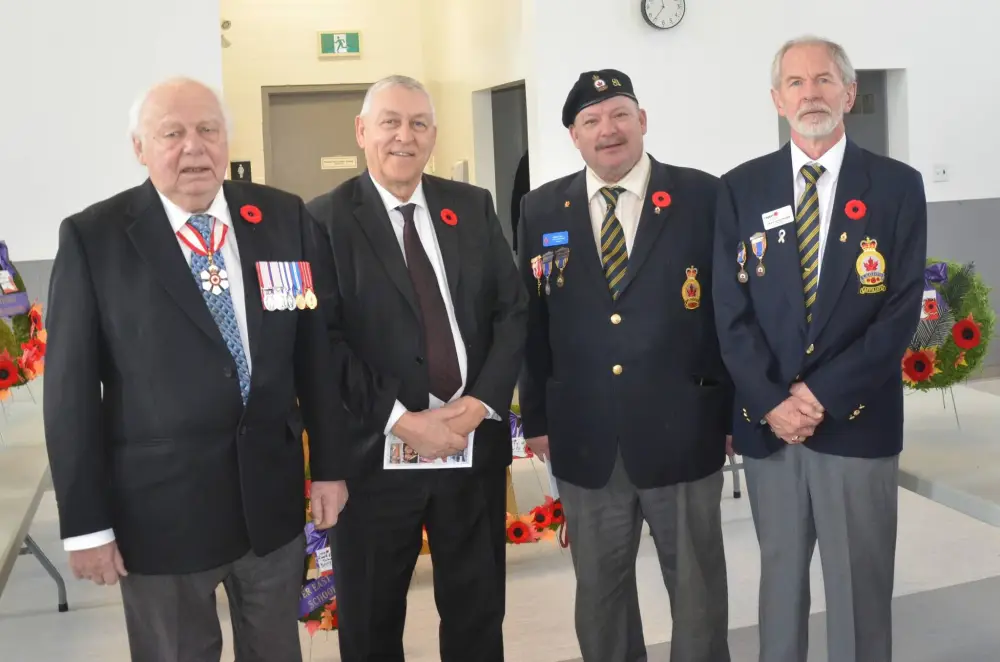 June, 2022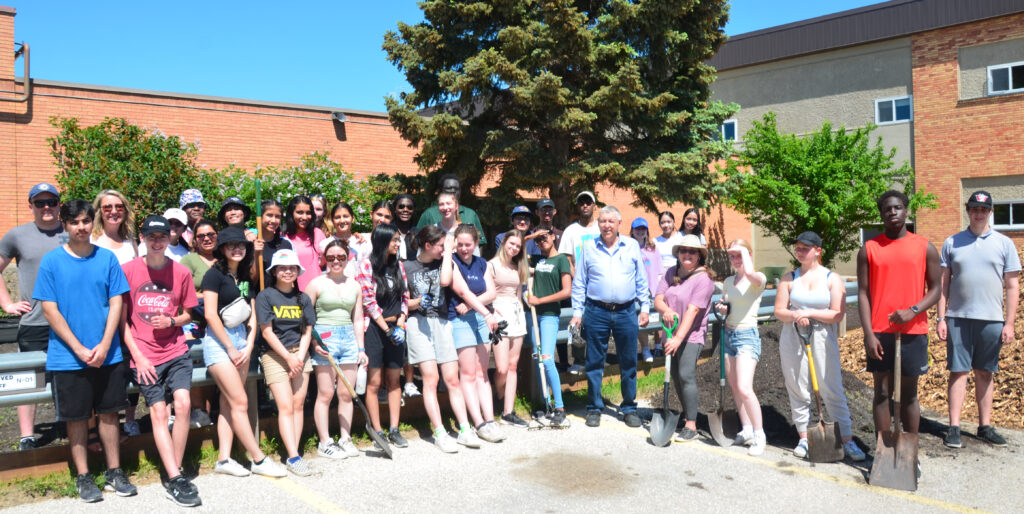 Jim with Miles Macdonell students and staff as the put the finishing touches on their Outdoor Classroom Project made possible by Green Communities Canada – a community-based Climate action network and Ring Youth Manitoba.
June 11, 2022 Happy Days on Henderson. Maloway Lemonade Stand & Squeegee Gun Draw.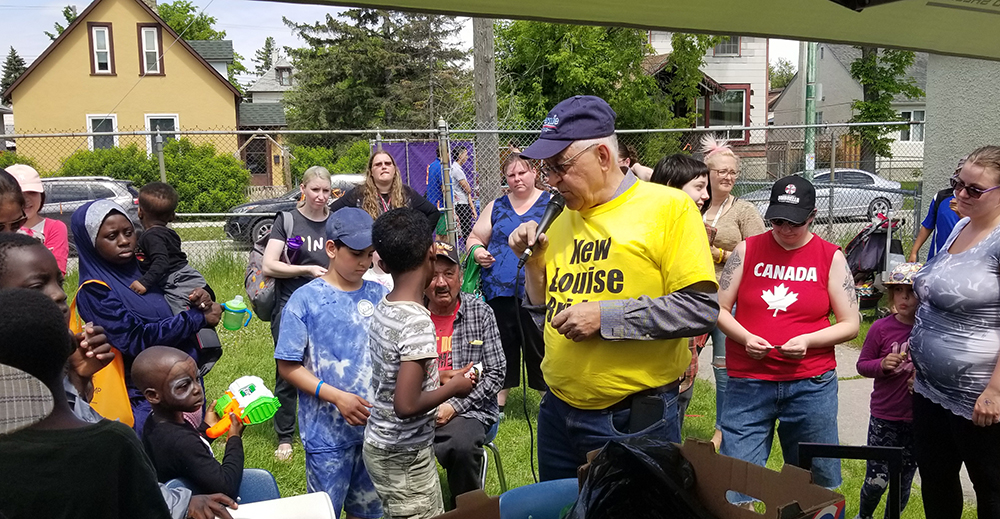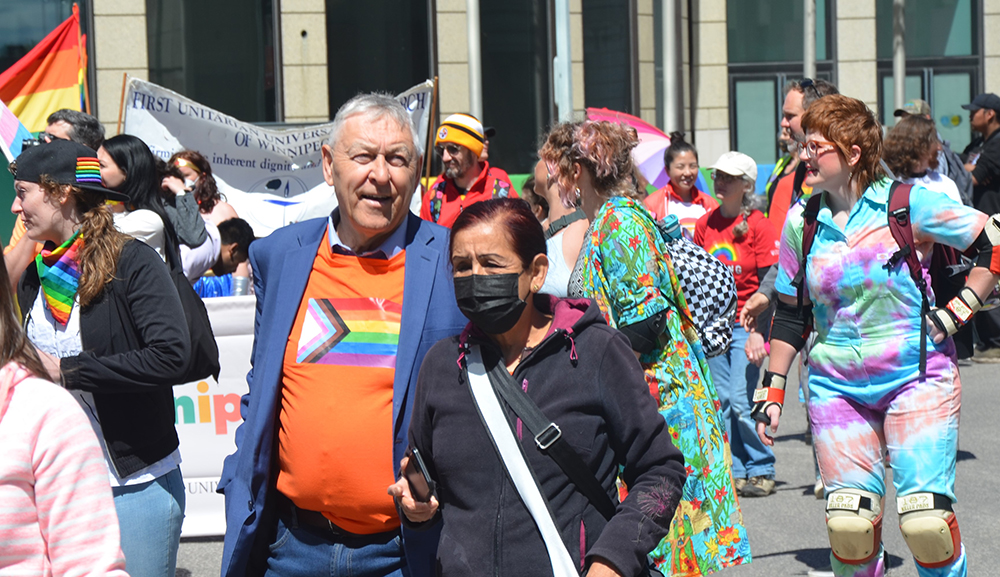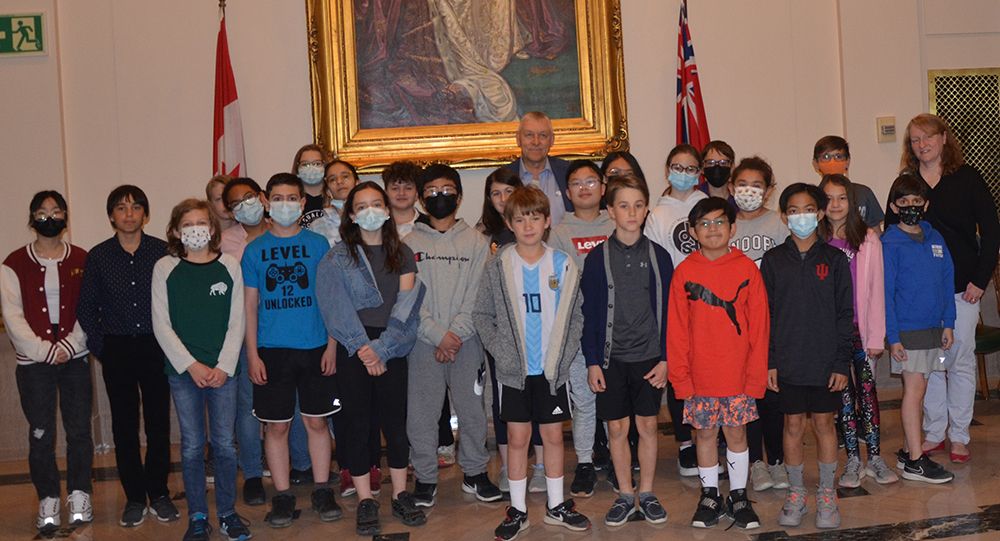 May 28, 2022 Chalmers Neighbourhood Renewal Corporation Open House.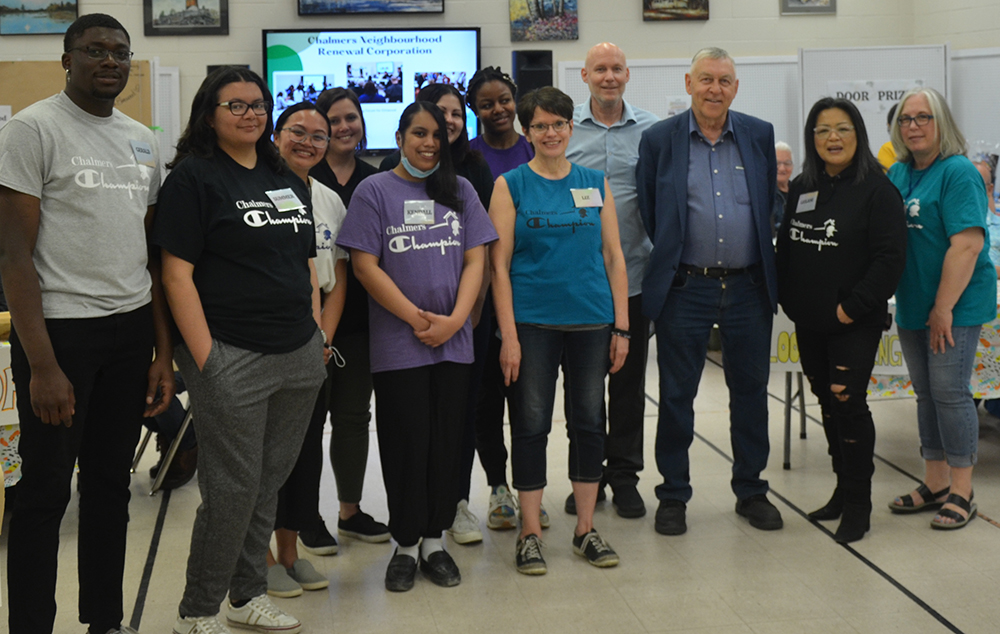 May 17, 2022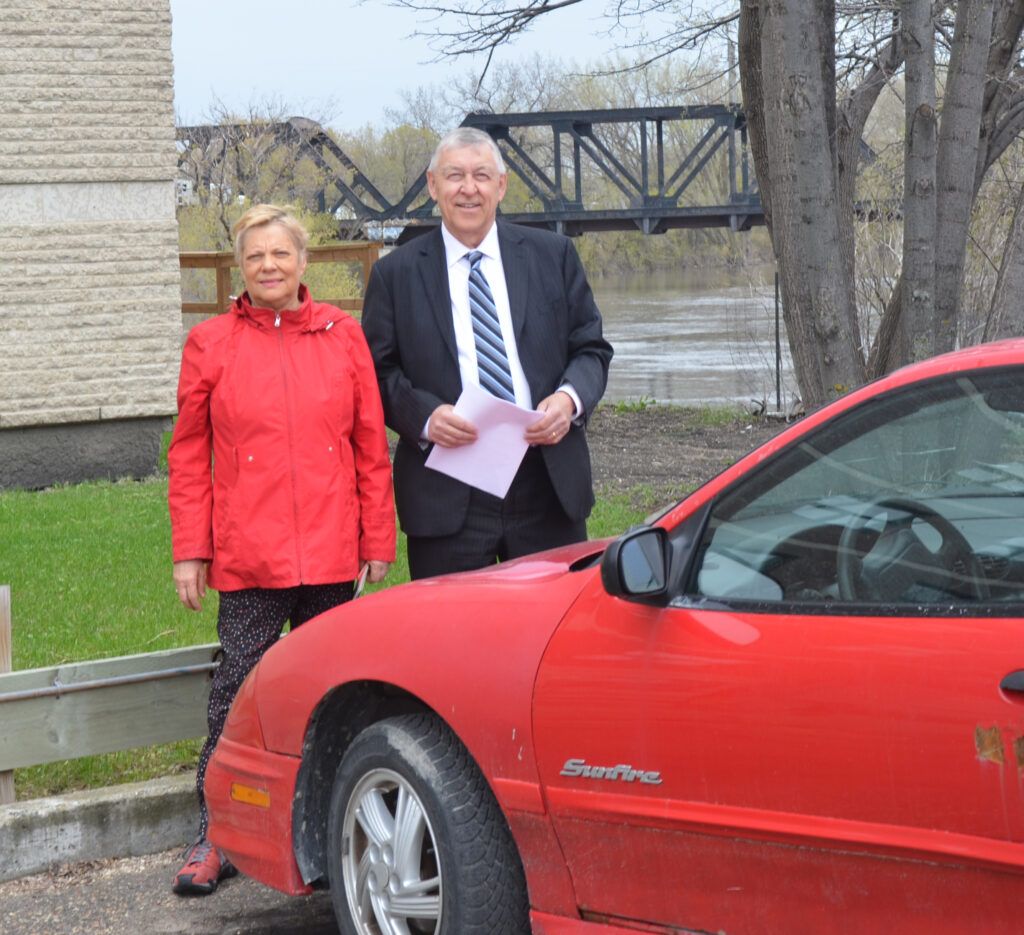 Jim with Columbus House Resident Sonia Klymenko, who, along with five other residents, had their catalytic converters stolen right in their building's parking lot this spring.
April 11, 2022.
On March 4th, 2022, Elmwood lost one of its favourite sons. John King left us suddenly, leaving behind his wife Linda and their three children, Bret, Ashley and Meghan,and his grandchildren and his mother Grace.Linda and Ashley are in the gallery today. He was so proud of them all.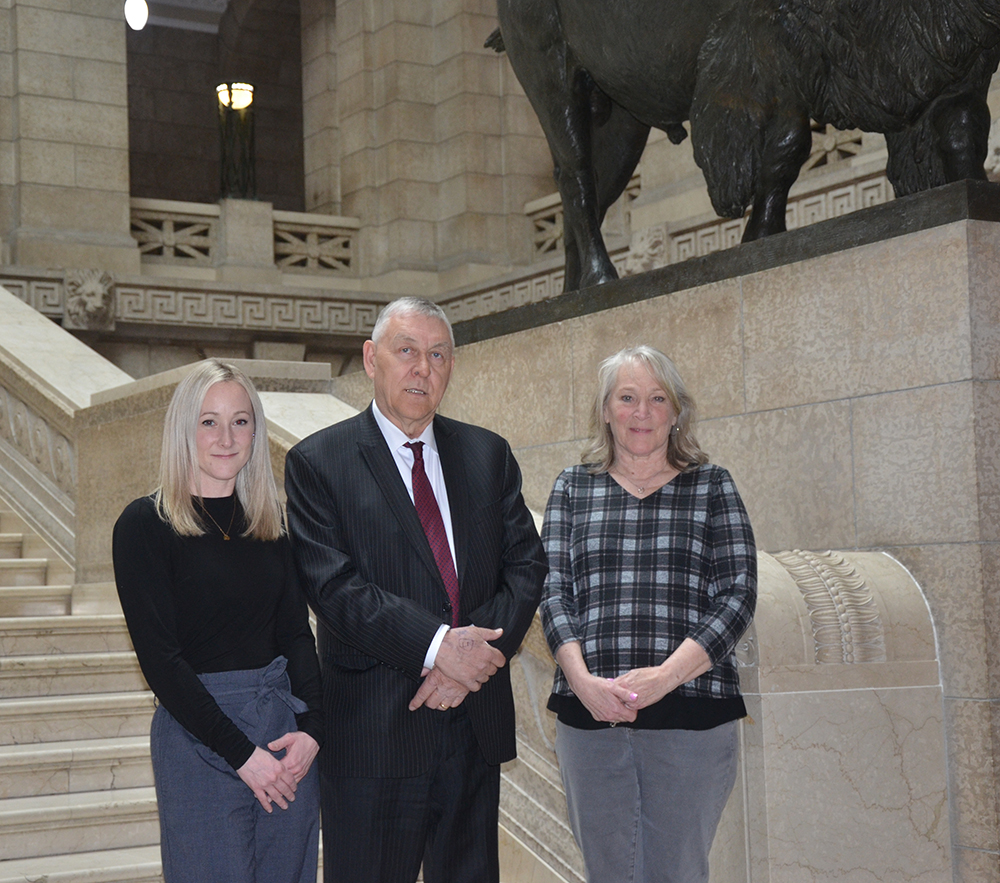 Jim delivering KN95 masks from his MLA allotment to Elmwood resident Roy Mestdagh. Thousands of masks were delivered to Elmwood residents in January 2022.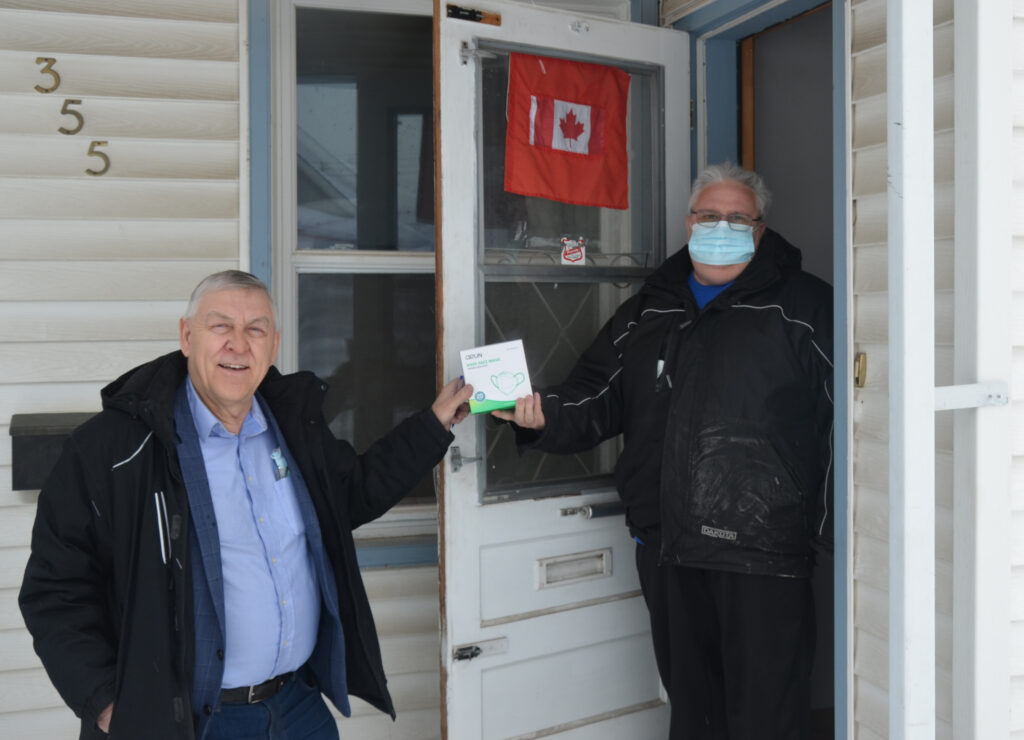 January 2022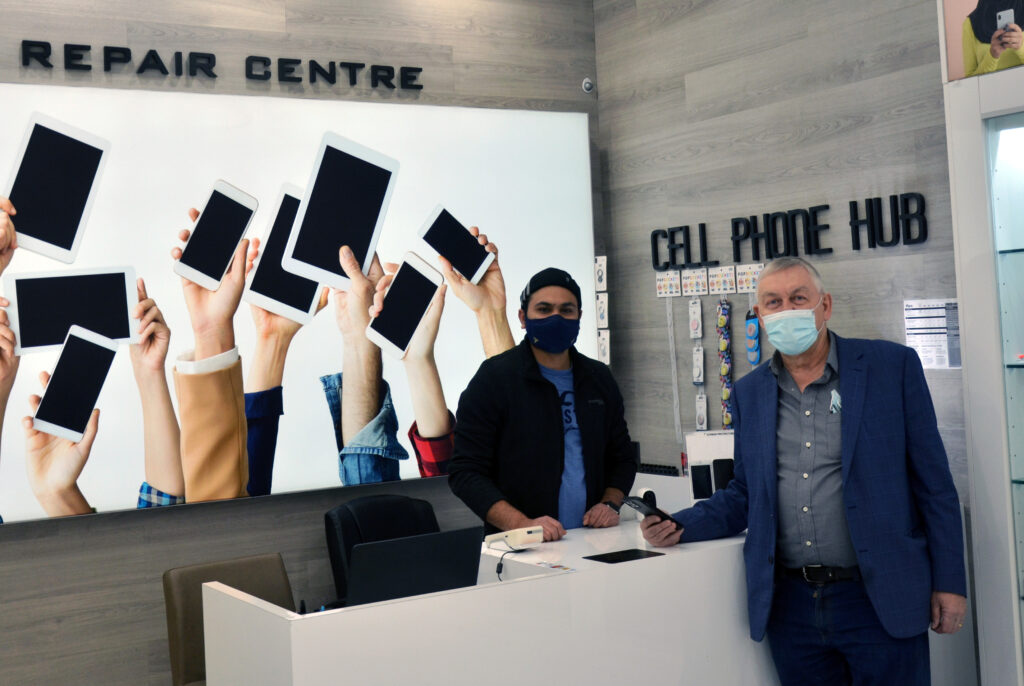 Jim with Sayrafi Manasia, Manager, Cell Phone Hub at Polo Park discussing Jim's 'Right to Repair' Private Member's Bills.
November 9, 2021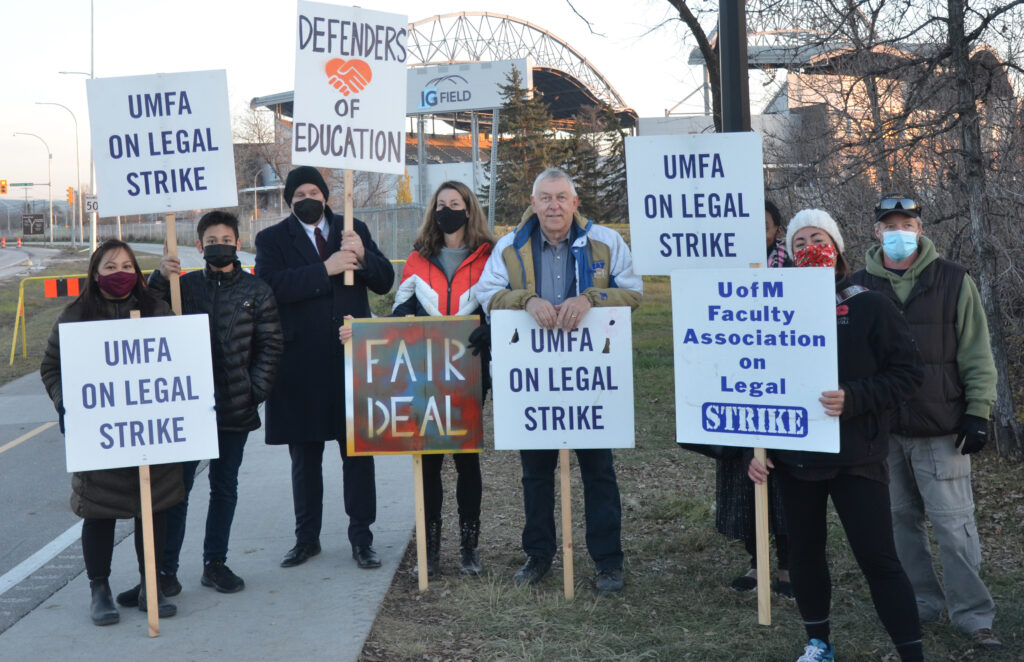 Jim with Sayrafi Manasia, Manager, Cell Phone Hub at Polo Park discussing Jim's 'Right to Repair' Private Member's Bills
Visiting the picket lines at the University of Manitoba campuses.
Columbus House Riverbank Project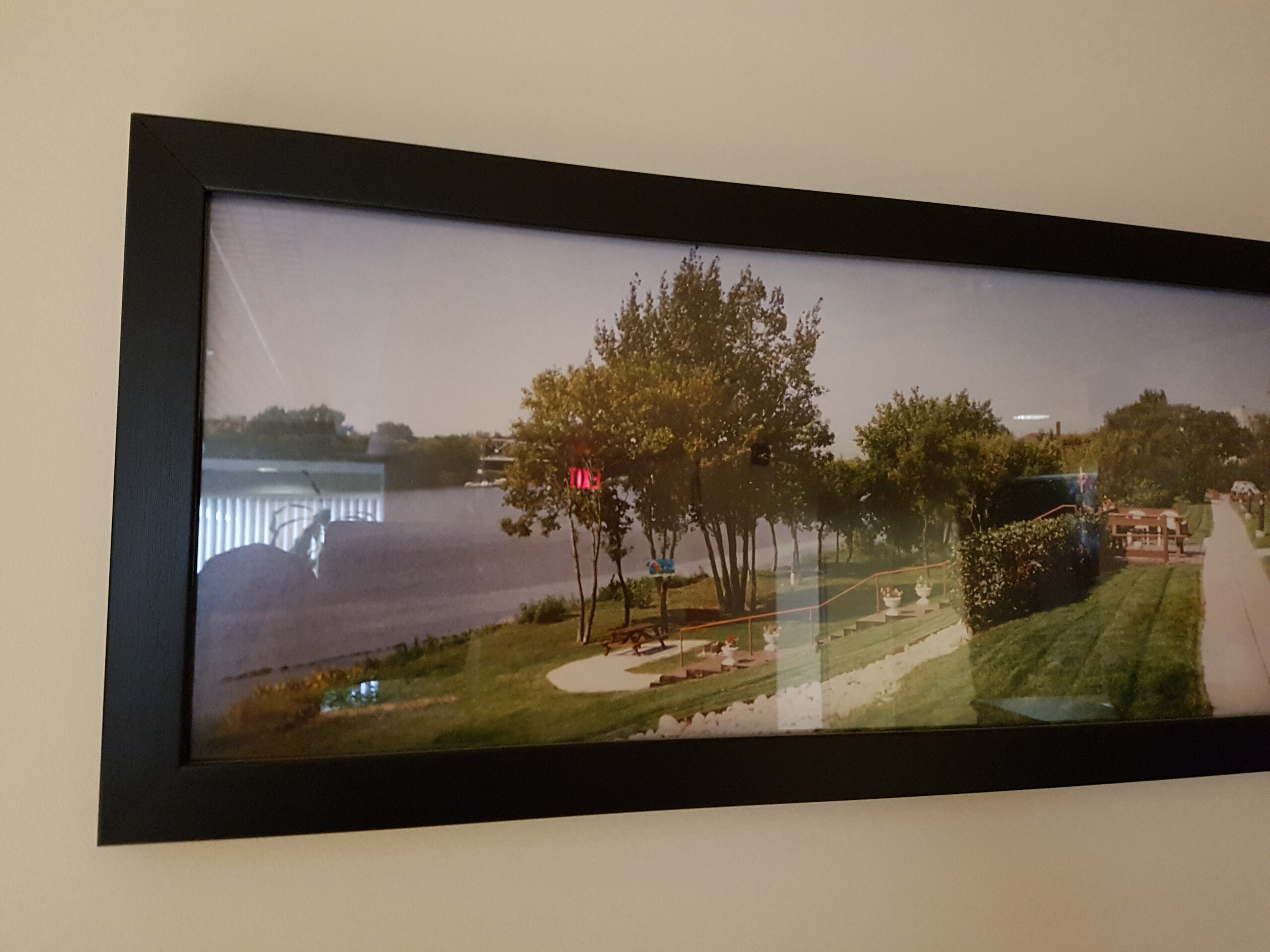 What the riverbank used to look like….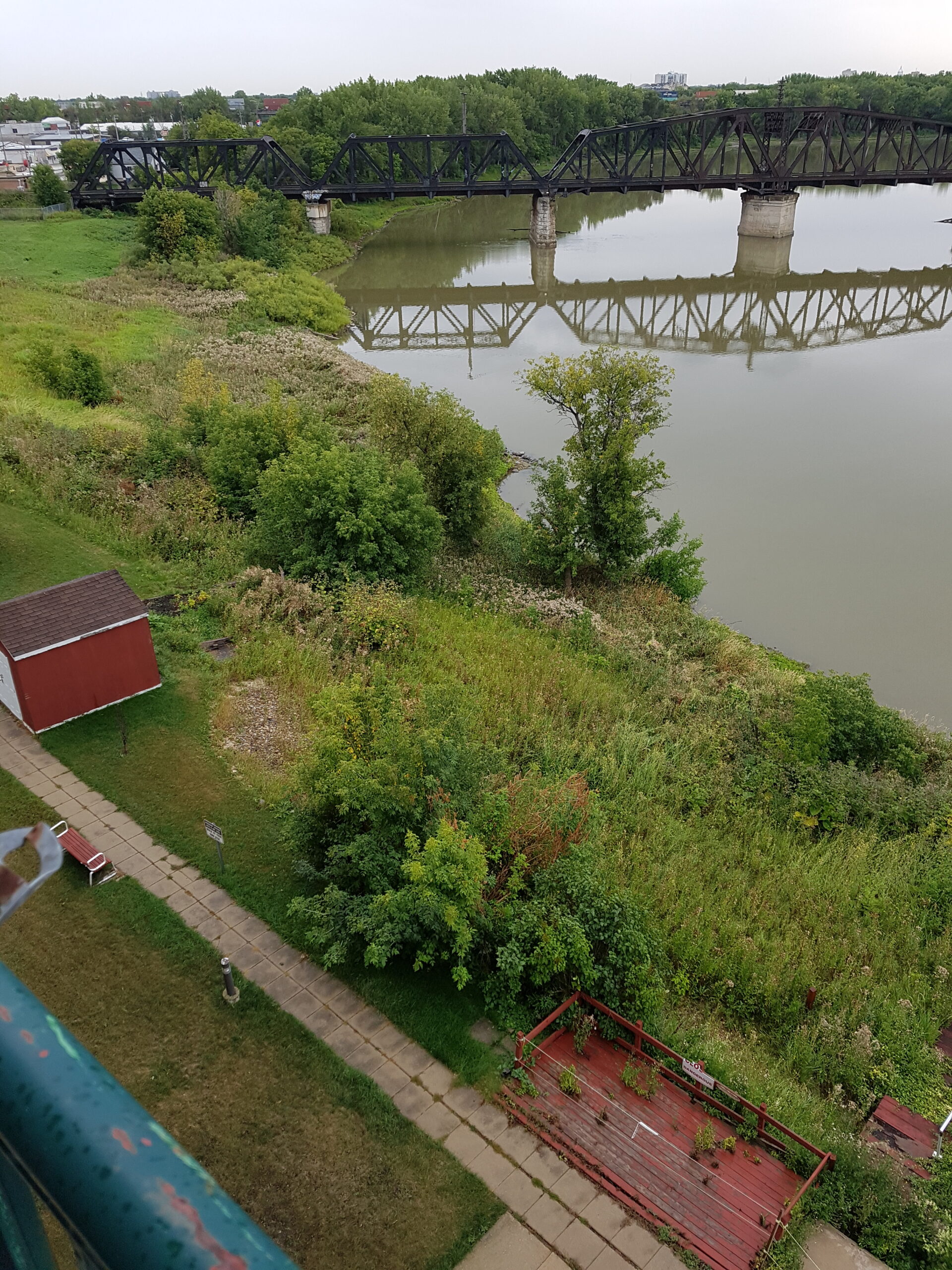 August 21, 2017
Riverbank erosion now affecting riverbank right up to the sidewalk.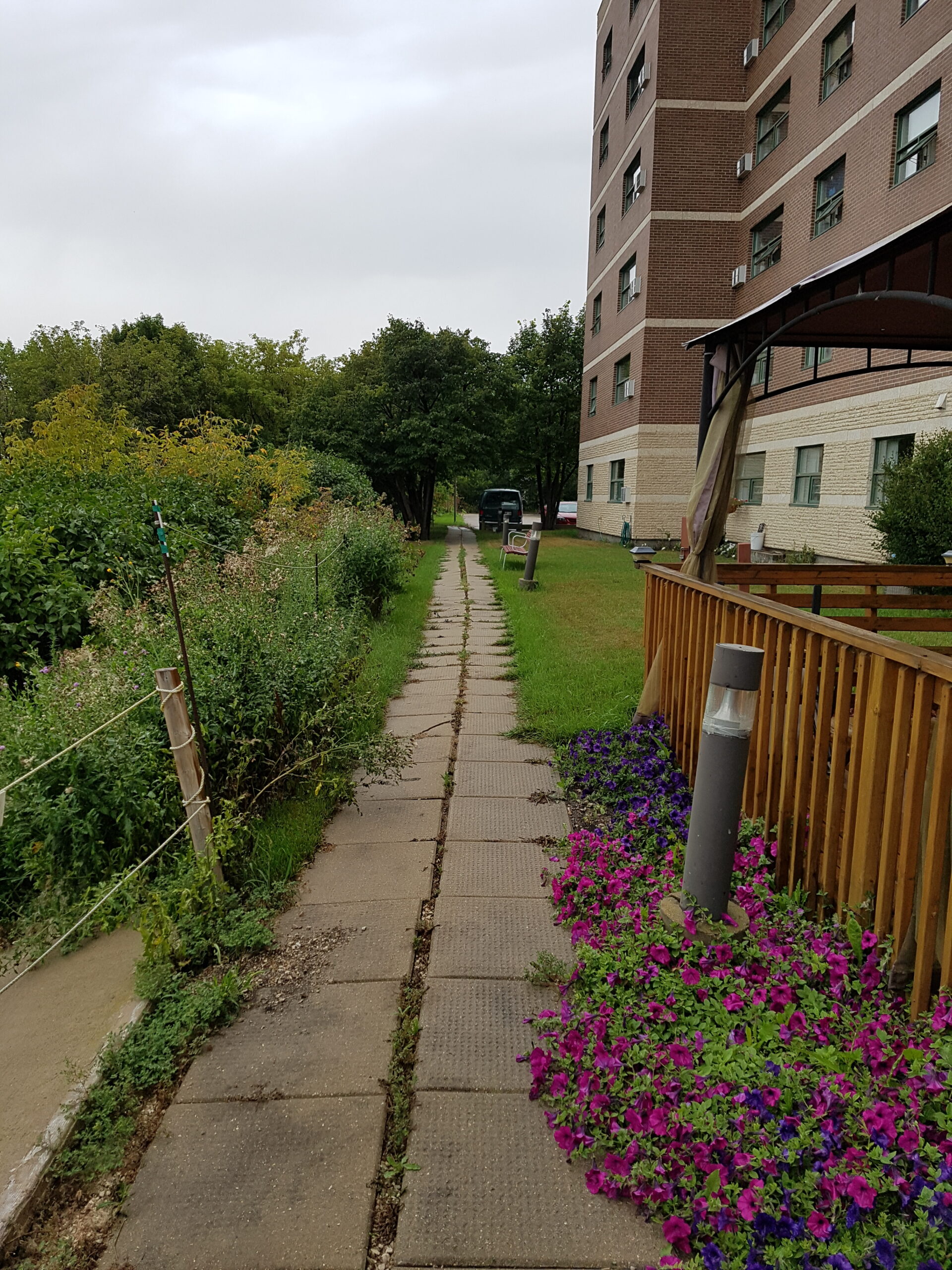 August 21, 2017
View to north. Sidewalk beginning to slope.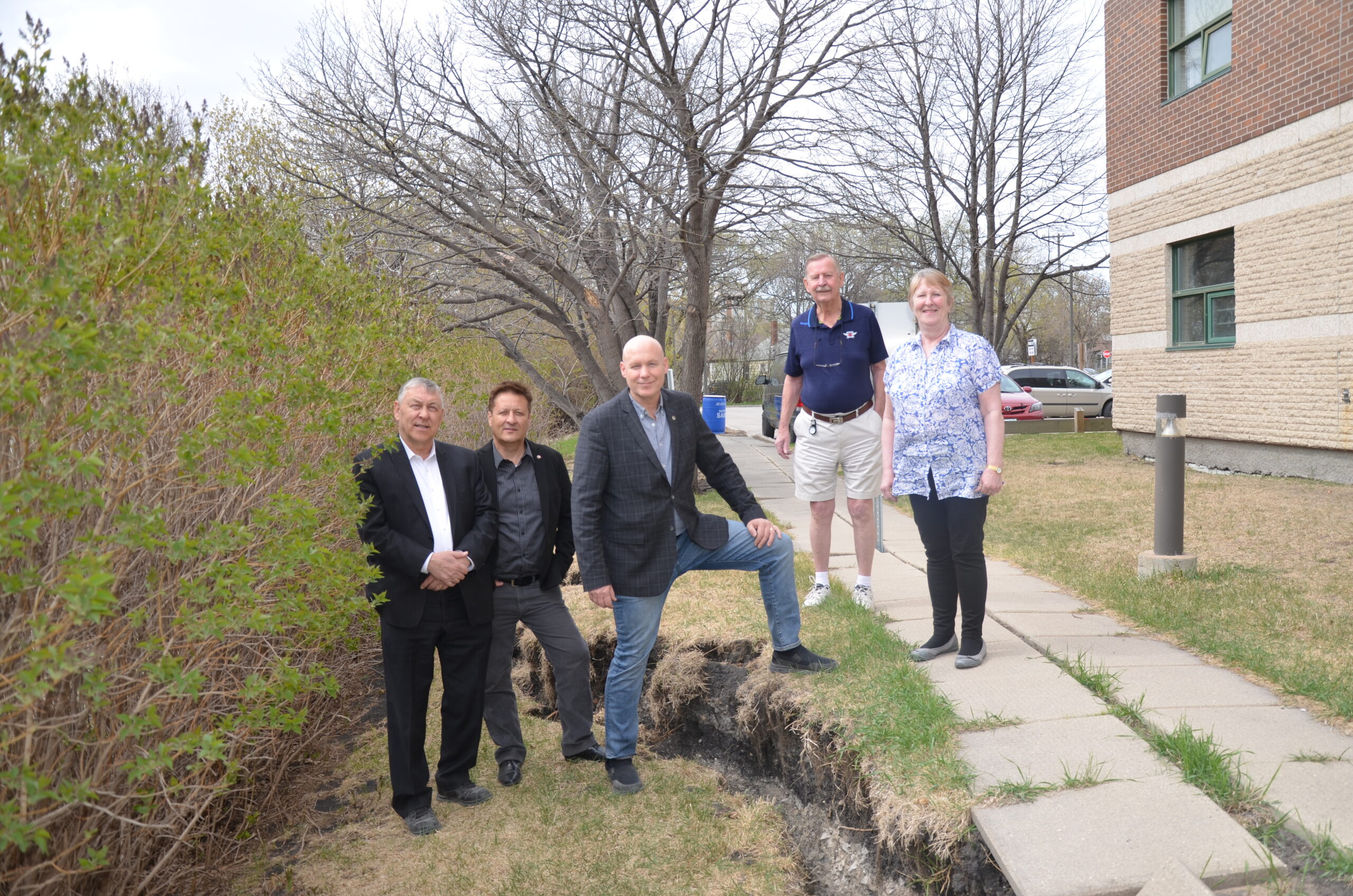 April 23, 2018 Fissures & Action Needed
Left to right: Jim, Hon Ron Schuler, Minister of Infrastructure, Councillor Jason Schreyer, Columbus House Tom Ellis and Andrea Helgason.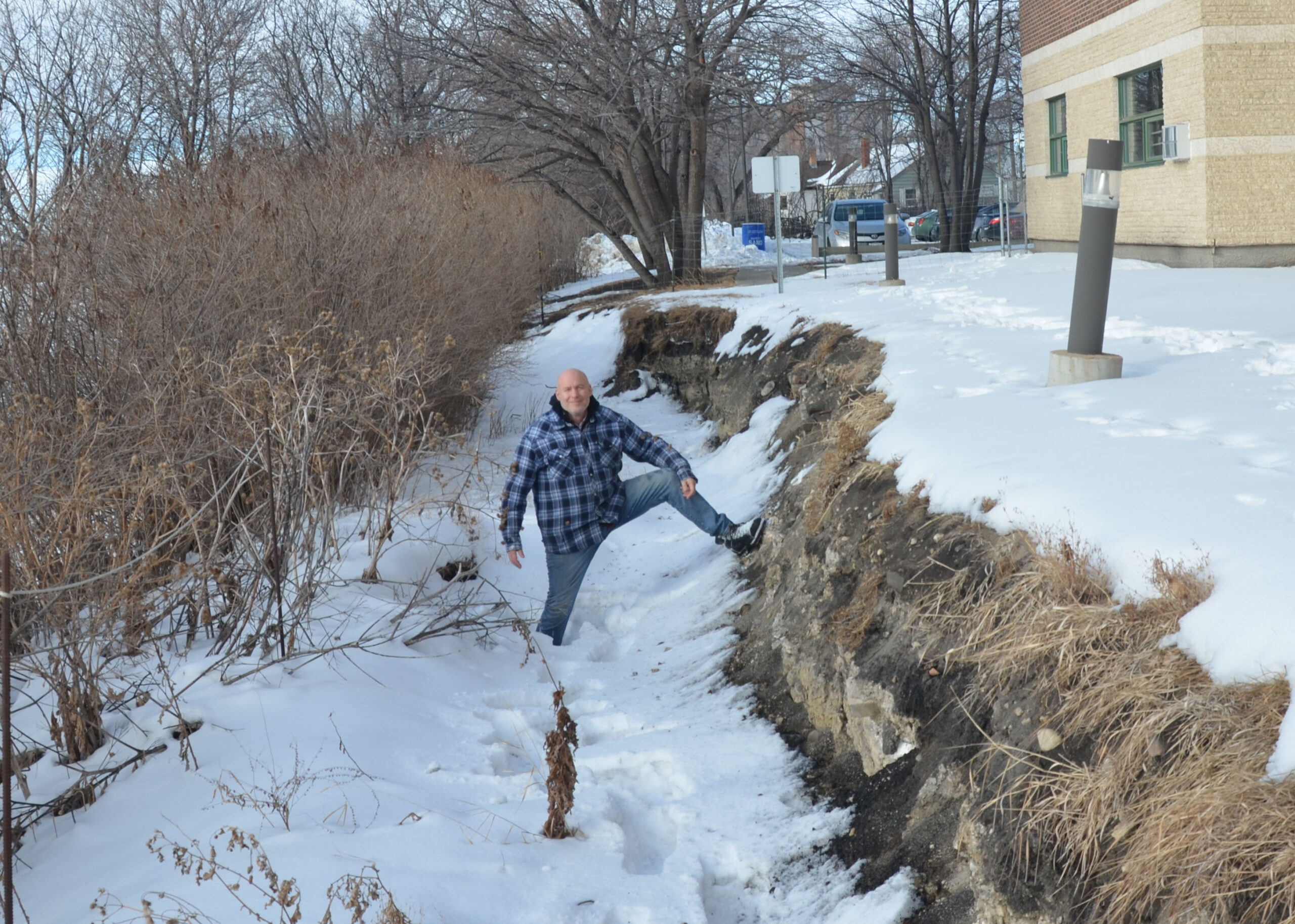 January 2021 Massive erosion
Councillor Jason Schreyer steps up and provides $200,000 of his Ward Allowance to supplement the balance paid entirely by Columbus House to save the City-owned land.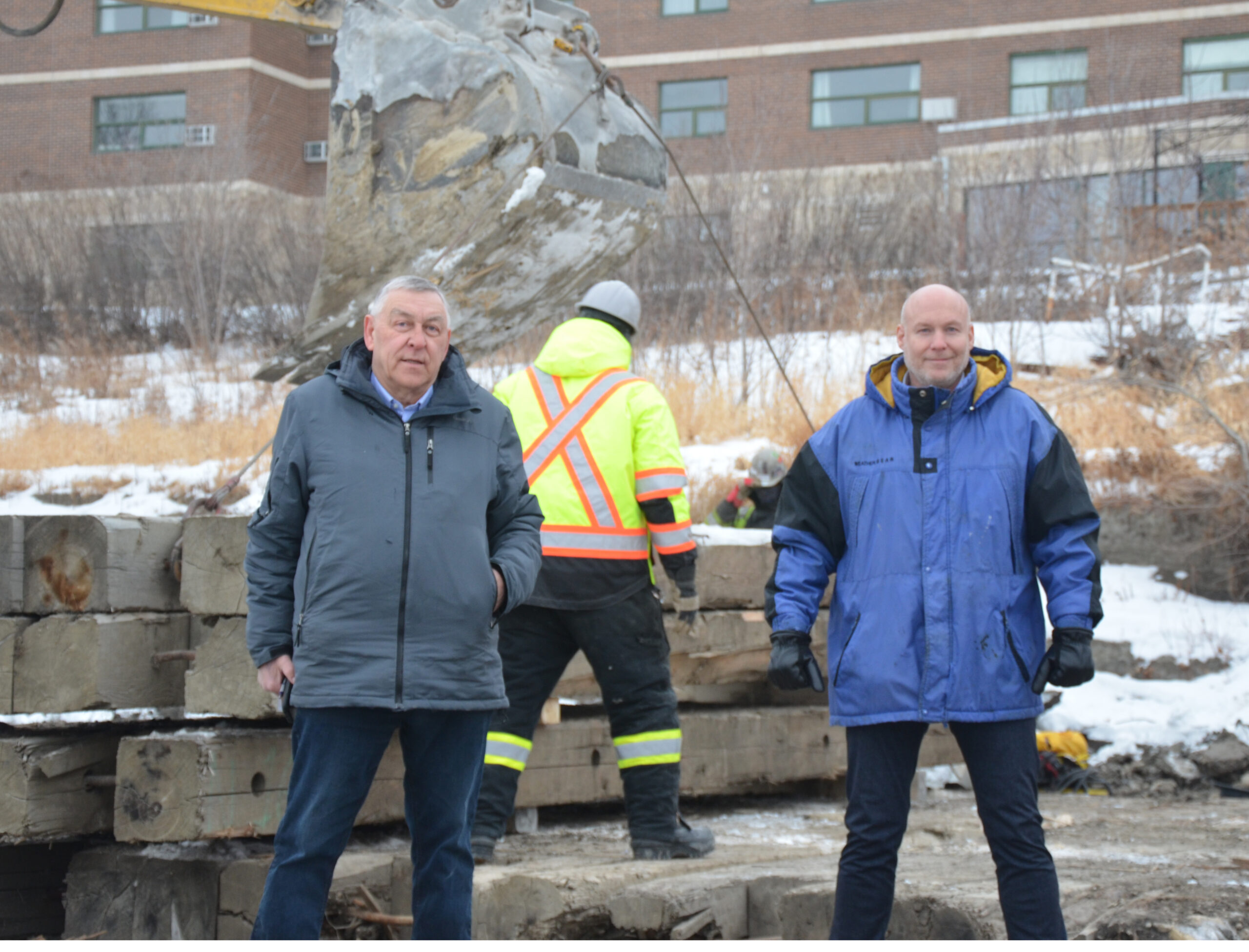 January 29, 2021 Construction Begins
Jim and Councillor Schreyer at the Construction site. This private $810,000 project to save City-owned land begins. Even though this riverbank is one of the worst cases of riverbank erosion in Winnipeg, eroding valuable City-owned property, the City wasn't able to provide general funding.
Jim with Councillor Jason Schreyer and Ron Theriault and son Anthony.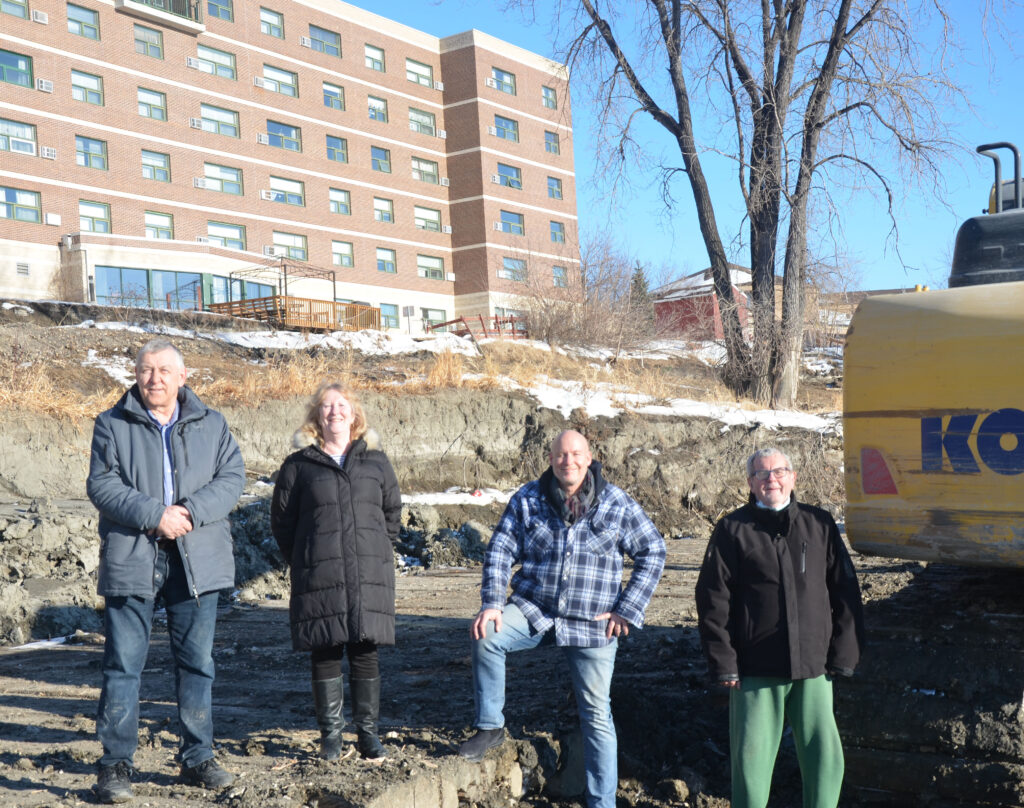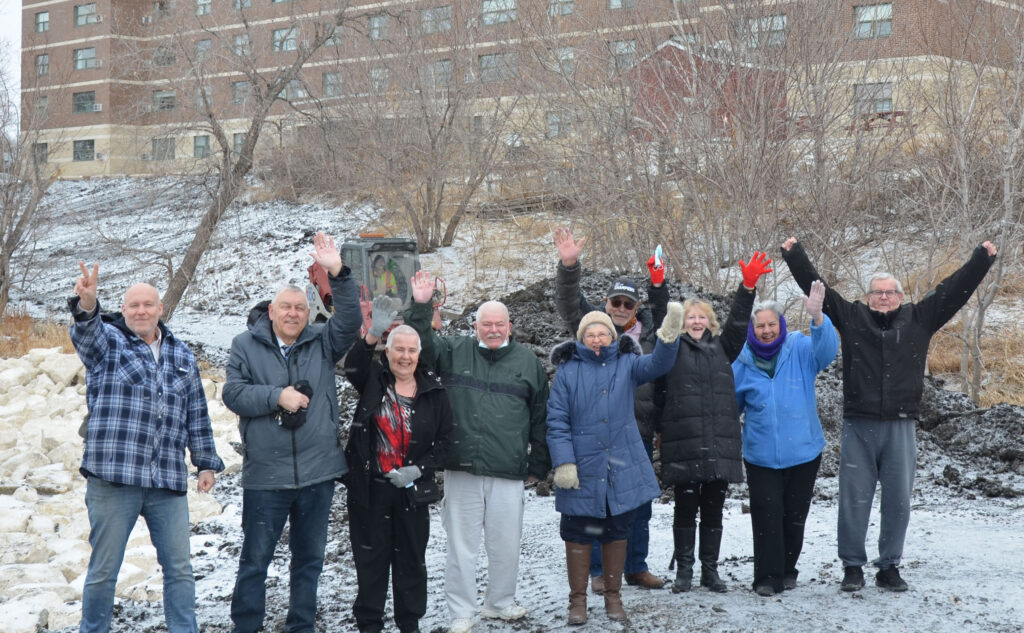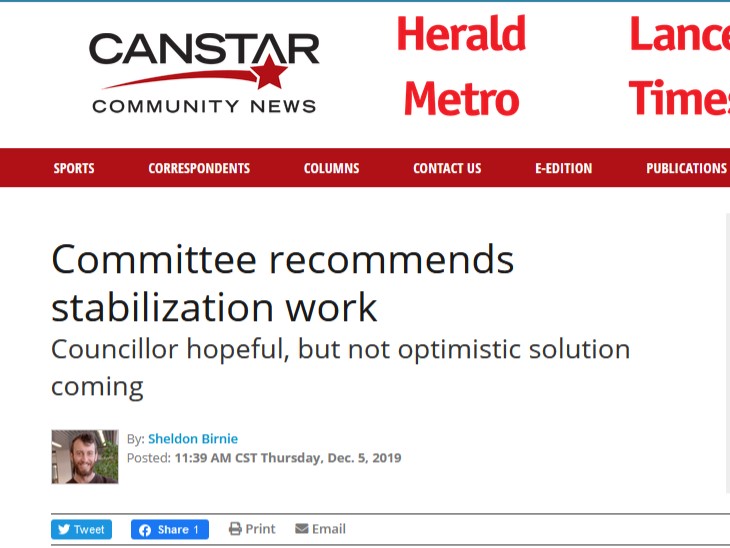 https://www.winnipegfreepress.com/our-communities/herald/Committee-recommends-stabilization-work-565840122.html
Canstar Herald Article September 11, 2020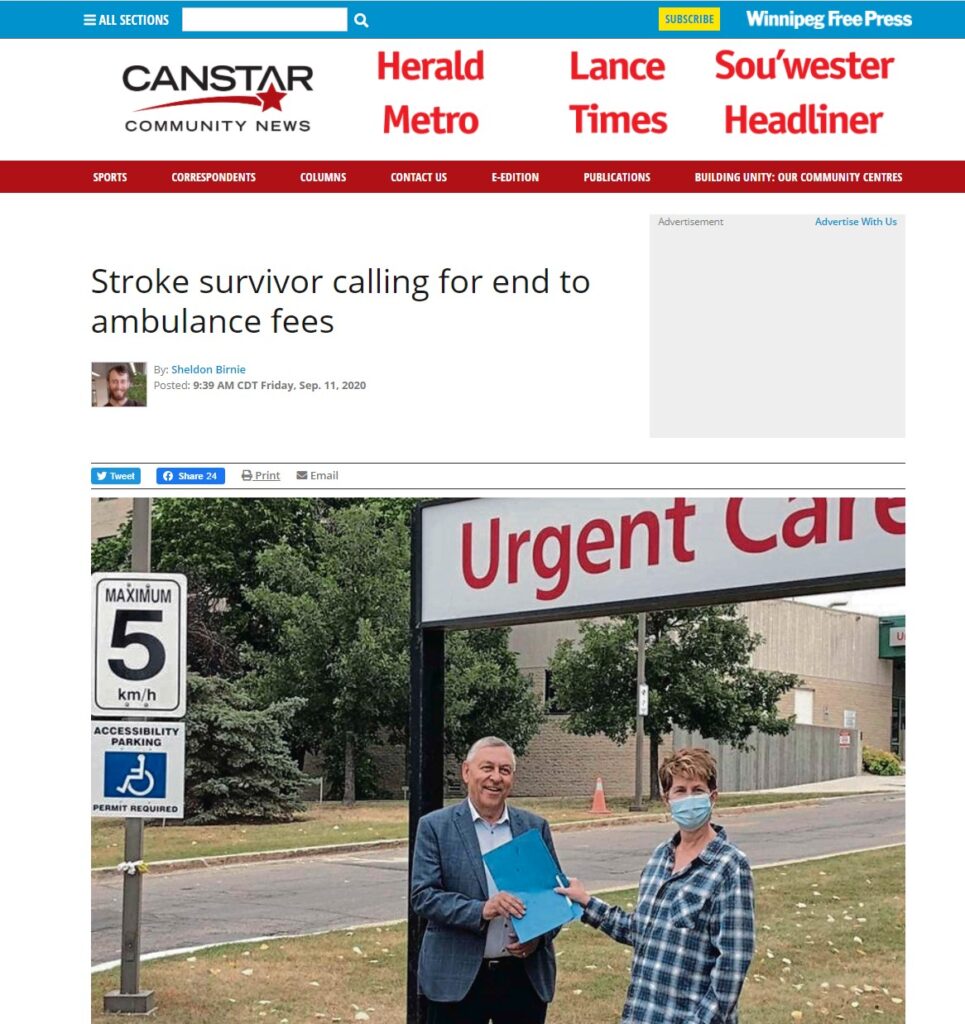 An East Kildonan resident is fighting to see ambulance fees reduced or eliminated for Manitobans.
Two years ago, Karmel was walking with a friend through Assiniboine Forest when she had a seizure. An ambulance was called, and Schreyer was taken to Grace Hospital for treatment. When she later received an invoice for $500, she decided she needed to do something about what she feels is an unjust system.
Karmel Schreyer presented Elmwood MLA Jim Maloway with a petition in August which argues that forcing people with "innate physical conditions, such as those who are disabled or pregnant, to pay" fees is discriminatory and calls for them to be discontinued.
"It's a no brainer," argues Karmel, a historian and author who had a stroke in 2015, a result of which is she sometimes experiences seizures. "The point is, it's not a level playing field."
"I don't know why I should have to pay for this access to health-care, when other people don't have to," the longtime northeast Winnipeg resident said.
For Schreyer, the fact that many groups, including those with ambulance coverage as part of a collective agreement, are exempt from ambulatory fees is unfair. Schreyer gave the Pallister government credit for reducing ambulance fees from $500 to $250, but she does not believe that goes far enough.
"I understand money doesn't grow on trees," she said. "But in this case, I think it's reasonable to expect that in Manitoba we can expect free ambulance service where it is provided now."
Her petition argues that "it is fair and reasonable that lawmakers provide the public with the same level of 'universality and accessibility' to health services they provide themselves."
"It's a no brainer," she repeated.
"Removing the deterrent fees and providing free ambulance services to all Manitobans is an idea whose time has come, and the sooner we get there, the better," Maloway told The Herald.
Following her stroke, Schreyer said she has had time to reconsider how those who are disabled are treated in our society.
Stay informed
The latest updates on the novel coronavirus and COVID-19.Subscribe to COVID-19 Briefing
"There was a time in history when disabled people were expected to stay in doors," she said. "But this is 2020. The idea that disabled people may have to pay for their own ambulance fees is basically saying that they should stay in doors."
To go out or not to go out becomes a question or risk assessment, which Schreyer argues is fundamentally discriminatory.
"It's unreasonable," she said.
Schreyer would like to see her petition brought to the provincial legislature, something Maloway said he hopes to be able to do in October. She is also encouraging those in support of reducing or eliminating ambulance fees to sign an online petition, as well.
"I'm proud of the people who have been willing to support the initiative," she said. "I hope it works."
For more information, visit change.org/endambulancefeesmb
Sheldon Birnie
The Herald community journalist